FIND AN MS MEGA CHALLENGE EVENT NEAR YOU!
The MS Mega Challenge is a huge part of the MS community, and the 2023 line up of events is looking to be our most fun and engaging yet.
We always need our amazing team of positive and energetic volunteers, we simply couldn't do it without you. There is certainly a MS Mega Challenge event on near you and we would love to have you on the team!

Lending your time and skills to a good cause is incredibly rewarding

Meet new people and enjoy a day out supporting the community

Learn a new skill or build on existing experience

You will help us raise much needed funds for the MS Go For Gold Scholarship Program

Our Team Leader roles can help develop leadership and communication skills
CURRENT EVENTS REQUIRING VOLUNTEER ASSISTANCE
CASEY
MS MEGA TRIATHLON
25 June 2023
Casey RACE
CANBERRA
MS MEGA SWIM
5-6 August 2023
Australian Institute of Sport
SYDNEY
MS MEGA SWIM
19-20 August 2023
Sydney Olympic Park Aquatic Centre

I loved every minute, it's such a rewarding and heartwarming feeling to help such a worthy cause, in a friendly & supportive environment, and to see the energy & enthusiasm of the participants. The MS event crew are exceptionally well organised and helpful.

Professionally well managed event.

It feels good to be helping with something so worthwhile.

I enjoy volunteering for all MS events every thing is always organised and the staff are very friendly.

It's rewarding just being able to help out in some way that will benefit people living with MS.

The pool staff were excellent. The swimmers had a great attitude. The volunteers were very friendly, MS and Rotary.

Its a very good fundraising event with participants from all walks of life.

It was very enjoyable. MS staff were very nice and always helpful. They supported volunteers with a smile and good humor. Also, they told volunteers about other MS events in general and MS in particular. Participants were fun and super friendly.

Great involvement by all and happy to see the passion & commitment of all competitors.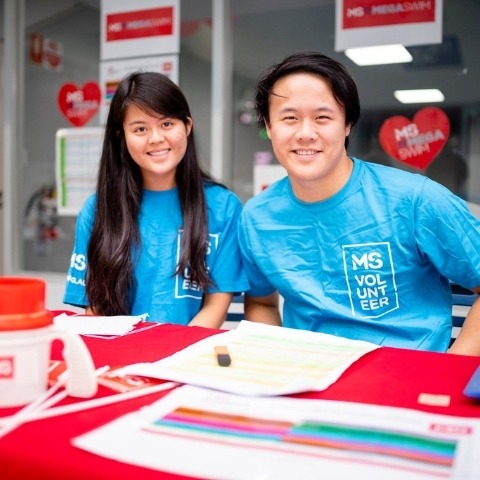 To learn more about volunteering, please contact our Volunteer Manager, Renee Fox.